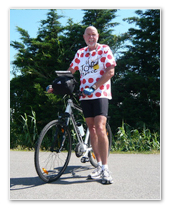 You have been kind enough to receive emails from me for the last seven years about Humana's Medicare Advantage plans. Today I would like to share my personal experience from yesterday with enrolling into a Humana plan.
Self guided needs analysis
I turn 65 in May of this year so February is the first month I could enroll in a Medicare Advantage plan. I first started selling Medicare Supplement plans in early 1980 which means I have been in the Medicare market over half of my lifetime. My wife and I have both been on a Lifewise high deductible plan with an HSA through a local financial institution here in Spokane, WA for the past 7 years. We both have had an annual physical these past seven years and pay for most of it out of pocket as our deductible is quite high.
I have had a membership in a health club wherever I have lived most of my adult life, and have viewed it as "the least expensive health insurance money can buy". So today I continue to go to my health club five to six days a week and bike outside everyday in the Summer for about two hours per day. The only prescription medication I take is 5 MG of Simvastatin per day and I purchase that from Costco for $9.99 for a 90 day supply. So my prescription drug expense is less than $40 per year. I chose Humana's $0 premium PFFS MA only plan for myself based on my medical history over the past 10 years or so. I am fortunate enough to be one of the 5% of Medicare beneficiaries who will be faced with IRMAA or Income-Related Monthly Adjustment Amount. I have chosen not to enroll in a Stand Alone PDP but I would like to share my personal numbers with you so you see why I am not enrolling in Part D at this time.
Based on my current prescription expenses if I enrolled in a stand alone PDP, I would choose Humana's Walmart-Preferred plan for $18.50 per month, add to that the IRMAA of $66.60 per month I would owe and my monthly cost would be $85.10 per month or $1,021.20 per year. All this for a plan with a $325 deductible, while my actual drug costs are only $40 per year. When I do the math it just makes more sense not to enroll in Part D now.
Principles to work by
I can still remember in early 1980 when I passed my insurance exam for Life and Health the first time. All new agents study and learn the same basic principles and one of those principles I have never forgotten is that insurance of any kind is designed to pay for those things one cannot pay for themselves, which to me is another way of saying, "If I can pay for it, I should not pay a premium to insure it".
Selecting an agent
The agent who wrote my wife and I on Lifewise is also appointed with Humana, so I asked him to be my agent with Humana as well. He has been in communication with me and my wife over the past few months with respect to our Humana enrollments. My wife turned 65 in February, so she is already on Medicare and enrolled in Humana's MA only PFFS plan and the Walmart-Preferred PDP. The main reason I selected, and stayed with my agent is because of his organization and professionalism in all the interactions we had with him. He was prepared in advance of any meetings we had. He understood the details of the products, and made the process easy to understand. My hope is that all of your clients are as fortunate as I was by having an agent who is organized and professional.
Right Source Rx is a great benefit for your clients
By the way, she has already received a 90 day supply of both her asthma inhaler and cholesterol medication from RightSourceRX and says she is going to love the convenience of mail order. She spoke with RightSource Rx phone representatives while first getting set up and states they could not have been more helpful or informative.
Try Humana's Fast App process on your next enrollment
I asked my agent if he would enroll me using Humana's online Fast App method; he did and it was a snap. The actual completion of the forms online only took about 10 minutes. He submitted my enrollment to Humana around noon. By the time we finished lunch and I drove from Coeur d Alene to Spokane, I checked my inbox and already had the email confirmation from Humana. The confirmation included instructions on how to respond, which constitutes my electronic signature.
So long story short, I am enrolled and it was an easy and efficient process. Thank you for taking time to learn about my experiences and suggestions. I hope you found these insights to be useful in your line of work.